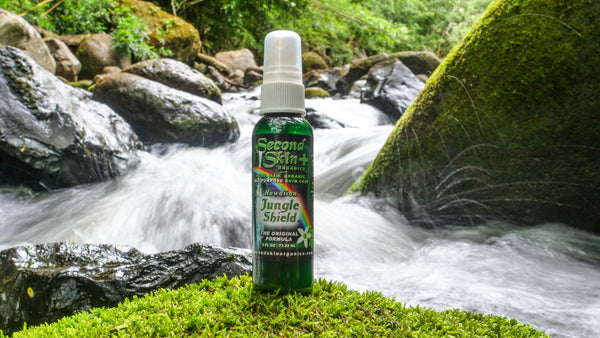 Hawaiian Jungle Shield - Single 2 oz. Spray
Second Skin Organics™ Kauai Grown Hawaiian Jungle Shield™ is an All-Purpose, Pure, Raw, Organic and Vegan body care product that is excellent for your skin in any climate and any situation.
Every Body Needs a Second Skin, It's a Jungle Out There! 

Used around the Globe, Hawaiian Jungle Shield is like First Aid in a bottle, with the added benefits of soothing (bites, itches, sunburn, irritations, etc.), while moisturizing and cleansing the skin the way nature intended. 
Ingredients
*Certified Organic: Hawaii Volcanic Artesian Spring Water, *Organic Neem, *Organic Noni, *Organic Aloe, *Organic and Non-GMO Soy, Golden Jojoba, *Organic Lemon Eucalyptus, *Organic Vegetable Glycerine, *Organic Lemongrass, *Organic Lavender, Lime, Ylang Ylang
How to Use
Shipping Options
We currently ship U.S only. For international orders please contact us for more details.
We also offer free shipping on our Hawaiian Jungle Shield 6 Pack